45 Belle Avenue Delaware, OH 43015 | 740-363-8425 | dcschool@dcschool.org
DCS Athletics
Our soccer, baseball and softball games are played at Liberty Field, 543 Liberty Rd., Delaware, Ohio, 43015.
Each athlete is required to have these forms on file prior to the start of the season:
Emergency Medical Release Form
OHSAA Preparticipation Physical Evaluation
Student Participation Contract
Ohio Department of Health Concussion Information Sheet
To download the Follow the Eagles travel directory, click here.
Photographer Rex Welker has sports photos available for purchase. You can view the action shots on his website.
Click on the links below to view more information about each sport.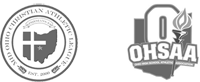 Members of the Mid-Ohio Christian Athletic League & the Ohio High School Athletic Association