45 Belle Avenue Delaware, OH 43015 | 740-363-8425 | dcschool@dcschool.org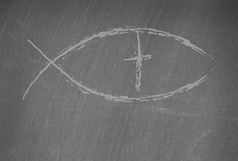 Secondary
Academics
Delaware Christian School Curriculum
DCS has developed a carefully planned curriculum in which our certified teachers integrate all subjects and activities with God's Holy Word. Our philosophy of text book selection is to use Christian published materials where possible. Exceptions would be where a secular publisher has a text which is significantly more sound educationally. Primary publishers would be ABEKA, Bob Jones and for math, Sadlier & Larsen. Christian texts are used for most science and social studies classes. Some secular texts will be used in upper level classes not siginificantly effected by humanism.
DCS holds to a Biblical Creationist position regarding origins. We believe in a literal interpretation of Genesis and in a young earth. Supporting educational materials come largely from Institute of Creation Science and Answers in Genesis.
The course of study has been developed in accordance with the standards prescribed by the Ohio Department of Education. As a state chartered school, we are required to give the Ohio Graduation Test to all 10th grade students.
HIGH SCHOOL COURSES BY YEAR
Freshman Requirements
Sophomore Requirements
Junior Requirements
Senior Requirements
English I
English II
English III (Comp. & Amer. Lit.)
English IV (Comp. & Brit. Lit.)
Old Testament Bible
New Testament Bibile
Understanding the Times (Bible)
Marriage and Family (Bible)
World Geography
American History
U.S. Government
Physical Science
Biology
Science Elective: Chemistry, Anatomy, Physics, Environmental Science
Science Elective: Physical Science, Anatomy, Physics, Environmental Science, Chemistry
Pre-Algebra, Algebra I or II
Algebra I, II, or Geometry
Algebra II, Geometry, or Pre-Calculus
Pre-Calculus or Calculus
Physical Education & Health
Electives
Electives
Electives
Electives
Spanish I
Spanish II
Spanish III
Spanish IV
Computer
Computer
Computer
Computer
Band
Band
Band
Band
Choir
Choir
Choir
Choir
Yearbook
Yearbook
Yearbook
Yearbook
Art
Art
Art
Art
We administer the PSAT to 10th and 11th grades on an optional basis. DCS is a test site for the ACT and SAT. Upper classmen are encouraged to take the SAT and ACT. For further information, see the school profile under Academics for ACT results as well as National Merit Scholarship award recipients based on the PSAT.
GERBER ANALYTICS
Delaware Christian has again been recognized by Gerber Analytics LLC as one of "Ohio's Top Academic High Schools." Gerber Analytics makes this recognition based on results from the Ohio Graduation Test given to all tenth grade students from 1006 public, state charter, and private schools in Ohio. Ninty-three (9.2%) of these schools made the "cut off" of having 91 percent of students pass all five sections of the OGT. Other factors involving individual test student scores were then factored in to make the final ranking.
Delaware Christian has achieved this recognition in '08, '09, '10, and now 2013. Thirteen schools in central Ohio were recognized. Catholic schools are St. Charles and Bishop Watterson. Private schools are Columbus School for Girls, Columbus Academy, Village Academy, Wellington, and Delaware Christian. Public schools are New Albany, Grandview Heights, Dublin Coffman, Dublin Jerome, Olentangy Liberty, and Olentangy.
Gerber Analytics methodology and statistics can be accessed here.
EDLINE - Communication to Parents and Students
Student evaluation is a continuing process for grading growth in every class. This process of ongoing student evaluation becomes increasingly effective when based on a common philosophy which is understood by teacher, parents, and students. The comprehensive K-12 website to assist in the communication between all parties is called Edline. Parents and students are encouraged to view Edline for a complete listing of lesson plans, grades, and newsletters. Passwords and access are given upon enrollment.

1. High school students and parents are personally responsible for keeping informed of subject grades by checking Edline. Teachers are expected to post grades weekly and have lesson plans for the week posted by Monday at 8 a.m.
2. Teachers and parents are encouraged to contact each other anytime a problem may arise or for information and clarification.
ACADEMIC PROBATION
A probationary period of nine school weeks for all new students will be required for all acceptance and appointment to grades. Personal or written notification to parents of any change in grade placement will immediately follow the nine weeks probationary period.

PROGRAMS FOR REMEDIAL ASSISTANCE
DCS does not have a program for children with "learning disabilities" as identified by legal definition. We do offer tutorial and remedial assistance on a limited, time available basis.
HONOR ROLL AND MERIT ROLL
The school will quarterly publish an honor roll for 7-12 grades. The purpose of having an honor roll is to recognize those students who "study to show themselves approved unto God...workmen that need not to be ashamed..." realizing that the well-rounded student is utilizing his gifts and abilities to glorify God. It is to this end that these students are specially recognized. The honor roll will include all subjects which are given a letter grade for that grading period. The "Honor Roll" will be for those students making all A's. The "Merit Roll" will be for those students earning all A's and B's.
See also Secondary - Academic Profile for grade scale and ACT Score history.